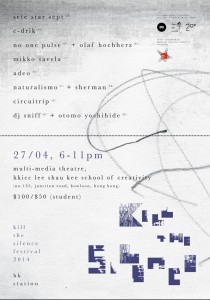 [Macau Station] Date and Time: 26/4/2004 (Sat), 6:00pm -11:00pm | Venue: Cao Box, Macau
[Hong Kong Station] Date and Time: 27/4/2004 (Sun), 6:00pm -11:00pm | Venue: Multi-media Theatre, HKICC Lee Shau Kee School of Creativity, Hong Kong
Short film screening curated by So-So Film.
Ticket: $100 (At Door) / $50 (Student)
Following the huge success of the Kill The Silence Festival last year in Macau 18 acts and over 12 hours of live performance, this year we are bringing the festival to both Macau and Hong Kong in April.
Kill The Silence is the only independent music festival that embraces rock, electronic, experimental, noise music and independent short film screening in a genres breaking and boundaries crossing environment.
Presenter: Re-Records, Day's Eye Records and Twenty Alpha
Venue Sponsor: HKICC Lee Shau Kee School of Creativity | Equipment Sponsor: miso tech co ltd
In association with Live Music Association.
Facebook Page: https://www.facebook.com/KillTheSilenceFestival
Programme & Ticketing Enquiries: rerecordshk@gmail.com | Press Inquiries: +852 2139 5230/ info@twentyalpha.org