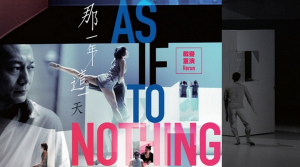 藝術家
編舞及佈景: 桑吉加
音樂: 李勁松
錄像: 楊振業
燈光: 劉詩豪(根據吳文安2009年之設計)
服裝: 孔德瑄
2014年6月13日 – 14日
8pm
葵青劇院演藝廳
$250, $180, $140
http://v.youku.com/v_show/id_XNzA4NjE3NTE2.html (video clips)
那一年.這一天
載譽重演
穿越時光之門,重塑那段是他也是你和我的曾經
-2010香港舞蹈年獎
– 最值得表揚製作
– 最值得表揚編舞
「充滿動力的舞蹈作品,當中要求舞者扭曲其身體的每一個部,使舞作有無休止地流動之感。」香港《南華早報》
「一部頂尖的作品。」北京《環球時報》
進入失衡的境界,記憶如網羅張開。在每個微妙的瞬間,記憶似有還無、或遠或近、虛無縹緲,難以捉摸。以致記憶漸漸被時間所吞噬;在記得與忘記之間,散亂的名字、扭曲的臉孔、浮動的時間、變換的場景、熟悉的情節,遺下一股無力感,叫人難以判斷,在交錯的時空下,記憶,孰真、孰假?
由譽滿歐美的編舞桑吉加編創澎湃的肢體語彙,在李勁松充滿張力的電子音樂與楊振業重重互動錄像交織中,與CCDC舞者重新演繹這個充滿爆發力的作品。
關於桑吉加 About Sang Jijia
被譽為「最完美的舞者」桑吉加,是德國法蘭克福芭蕾舞團藝術總監威廉.科西的入室弟子。二十三歲贏得巴黎國際現代舞大賽現代舞男子獨舞金牌;二十四歲獲頒廣東省「跨世紀之星」之稱;二十七歲獲「勞力士藝術大師啟蒙計劃」獎學金,赴德國習舞。桑吉加編舞以激烈澎湃及韻律獨特見稱,曾獲歐亞多個知名舞團邀請創作及演出,於國際舞蹈藝術範疇中享負盛名。
免費加料節目
圖片展
4~9.6.2014
香港文化中心大堂展覽場地 E2
藝人談
14.6.2014 (星期六) 演出後
葵青劇院演藝廳
查詢及報名請致電2329 7803或電郵至info@ccdc.com.hk
Facebook活動:「回憶是……」
以「回憶是」作為句子開頭,續寫一句句子。
各位所投過來的句子將有機會被選出作為《那一年.這一天》演出宣傳品,並獲贈以下禮品:《那一年.這一天》演出門票(13~14.6.2014)、《那一年.這一天》DVD、《那一年.這一天》海報、CCDC 35周年限定版布袋、CCDC文件夾
「回憶是」有限期的:31.5.2014
CCDC Facebook 活動「回憶是」專頁:https://www.facebook.com/events/286310701537233/
票務查詢:3761 6661
節目查詢:2329 7803 / info@ccdc.com.hk
信用卡電話購票:2111 5999
網上購票:www.urbtix.hk
門票現於城市電腦售票網發售
折扣
九折 (首兩張門票)
CCDC Dance Card 持有人
香港管弦樂團「港樂會」會員
中英劇團「能量粉團plus」
香港芭蕾舞團之友
香港中樂團「中樂摯友會」會員
香港舞蹈團「以舞會友」會員
藝穗會 Paid Members
香港話劇團「好友營」會員
進念.二十面體「進念之友」
agnès b. AMI 會員卡持有人
HKID Gallery VIP會員卡持有人
八五折 (首兩張門票)
國泰航空公司職員及港龍航空公司職員
八折 (首兩張門票)
廣東現代舞團現代舞之友
香港大學信用卡持有人
香港中文大學信用卡持有人
香港理工大學校友聯會卡持有人
香港演藝學院校友會卡持有人
七折 (首兩張門票)
CCDC Dance Generation卡持卡人
五折
全日制學生、六十歲或以上高齡人士、殘疾人士及看護人、綜合社會保障援助受惠人
CCDC保留更換表演者的權利
此製作之音樂於2009年由城市當代舞蹈團委約,費用由香港作曲家及作詞家協會轄下的「CASH音樂基金」贊助
城市當代舞蹈團由香港特別行政區政府資助

As If To Nothing
Rerun
Pass through the ashes of time, recreate the memories between you and me
2010 Hong Kong Dance Awards
– Outstanding Dance Production
– Outstanding Achievement in Choreography
"The choreography is supremely kinetic, with endlessly flowing movement that requires the dancers to contort every part of their bodies." – South China Morning Post, Hong Kong
"A cutting-edge work." – Global Times, Beijing
Enter the maze of déjà vu, trapped by our own memories. In every delicate moment, memories seem so close and yet so far. It is slowly swallowed by time. Struggling between remembering and forgetting scattered names, distorted faces, floating time, transforming scenes and familiar plots. What is left inside is emptiness. In this misplaced world, what is real? What is fake?
As If To Nothing is an adrenaline-packed and interactive multimedia work created by the internationally renowned choreographer Sang Jijia, featuring electronic music by Dickson Dee and video design by Adrian Yeung. This tour-de-forcereturns for another breathtaking journey led by CCDC dancers and their extremely physical and emotional performance.
About Sang Jijia
Acclaimed as "the most perfect dancer", Sang Jijia was selected by the influential American choreographer William Forsythe to work with him at the Frankfurt Ballet for four years. At 23, Sang won the top prize in the men's section of the 1996 Paris International Modern Dance Competition. He was hailed by the Guangdong province as "Star of the Century" in 1997. At 27, he joined the Rolex Mentor and Protégé Arts Initiative and studied choreography in Germany. Sang's choreography combines extremely intense physical movement and unique rhythm to create psychological tension and anisotropy. As an internationally renowned choreographer, Sang has choreographed and performed for numerous well-known dance companies in Europe and Asia at their invitation.
Free Programme Plus Events
Photo Exhibition
4~9.6.2014
Hong Kong Cultural Centre Foyer Exhibition Area E2
Meet-the-artist
14.6.2014 (Sat) Post-performance
Kwai Tsing Theatre Auditorium
For enquiries and enrolment please call 2329 7803 or email info@ccdc.com.hk
Ticketing Enquiries:3761 6661
Programme Enquiries:2329 7803 / info@ccdc.com.hk
Credit Card Telephone Booking:2111 5999
Internet Booking:www.urbtix.hk
Tickets NOW available at URBTIX
Discount Offers
10% discount (First two tickets)
Holders of CCDC Dance Card
Club Bravo Members of Hong Kong Philharmonic Orchestra
Energy Fun Club plus of Chung Ying Theatre Company
Friends of The Hong Kong Ballet
Friends of Hong Kong Chinese Orchestra
Friends of Hong Kong Dance Company
Paid Members of Fringe Club
HKREP Pals
Zuni's Friends
Holders of agnès b. AMI Member Card
Holders of HKID Gallery VIP Member Card
15% discount (First two tickets)
Cathay Pacific Staff and Dragon Air Staff
20% discount (First two tickets)
Modern Dance Friends of Guangdong Modern Dance Company
Holders of HKU Credit Card
Holders of CUHK Credit Card
Members of Hong Kong Polytechnic University Alumni Association
Members of The Hong Kong Academy for Performing Arts Alumni Association
30% discount (First two tickets)
Holders of CCDC Dance Generation Card
50% discount
Full-time students, senior citizens aged 60 or above, people with disabilities and accompanying minder, Comprehensive Social Security Assistance recipients
CCDC reserves the right to substitute artists
The music is commissioned by City Contemporary Dance Company in 2009 with sponsorship from CASH Music Fund
CCDC is financially supported by the Government of the Hong Kong Special Administrative Region