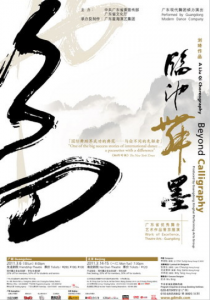 Choreography: Liu Qi
Music: Li Chin Sung
Luminal Art Designers:Leo Cheung, Roy Szeto Billy Tang
Costume Designer: Wu Bing
performed by Guangdong Modern Dance Company
produced by Guangdong Xinghai Performing Arts Group
Guangzhou
Time: 2011.3.6 (Sun) 8:00pm
Venue: Friendship Threatre
Add: No. 696, Renmin Bei Lu, Guangzhou
Tickets: ¥280(VIP), ¥180, ¥100
(20% off for members, 50% off for students and seniors)
Beijing
Time: 2011.3.13-14 (Mon-Tue) 7:30pm
Venue: Haidian Threatre
Add: No.28, Zhong Guan Cun Da Jie, Haidian District
Tickets:¥120
(Free seating, Member 20% off, Students 50%)
Program Enquiries & Group Booking Hotlines:
020-87049512 (Guangdong Modern Dance Company)
010-64054842 Ext. 8005 (BeijingDance/LDTX)
Upon Calligraphy by Liu Qi has been one of Guangdong Modern Dance Company's most successful productions. It is a poem of movements developed from the stylistic essence of different Chinese scripts. It comprises five dances named after the five different script styles in the history of calligraphy, namely the bone script, the seal script, the official script, the regular script, and the cursive script. The Washington Post describes it as "full of meditative grace, sharp, cut-crystal physicality and languid dignity."
In spring 2011, the program is invited to show in Beijing after being selected Work of Excellence – Theatre Arts, Guangdong. In the meantime, Liu Qi has further developed the work from a 43 minutes work to a full evening program of approximately 70 minutes in length. The new production, collaborating with composer Li Chin Sung and luminal art designers Leo Cheung, Roy Szeto and Billy Tang, is named Beyond Calligraphy. The first part of the piece retains the dance structure of the Calligraphy representations while a new epilogue is added, which pays homage to the spiritual essence of ink wash painting. The linear logic of development in the original work, which comments on the cold, emotionless mode of communication in the digital era, is resolved in the balance and harmony between the water and ink.