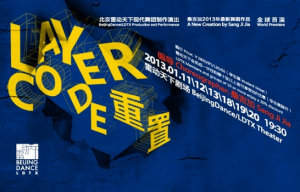 Date:2013.1.11-13
2013.1.18-20
Venue:BeijingDance/LDTX Theatre
Duration 70 minutes (no intermission)
Choreographer: Sang Ji Jia
Composer: Dickson Dee (CASH Hong Kong)
Lightand Set Design: Godzilla TAN (Malaysia)
Video Design: Adrian Yeung (Hong Kong)
Costume Design:Wang Yan (Beijing)
Dancers:Li Yue,Tang Ting Ting, Liu Yin Tao,Xie Xin, Xie Yong Chao,
Zi Wei, Xu Yi Ming, Zha Xi Wang Jia,Qian Kun, Hu Shen Yuan, A Di Ya
Price:¥280(VIP)/120 / 60(student ticket)
LDTX Members and groups of 10 or more enjoy a 20% discount
Address: 16Xiadianchangpo Village, Xidawang Road, ChaoyangDistrict, Beijing.
(subway line1 to DaWangLu station,exit B)
Ticket website:www.t3.com.cn
Booking Hotline:400-818-3333
Theater Box Office:010-64054842.EXT.8016
"Layer Code" is the latest work created by SANG Ji jia for LDTX after his much acclaimed "Unspeakable" in 2009 and Standing before" Darkness " in 2011.
The virtual reality prevails nowadays, where peoplecan override the past record and reset the process by one simple push of a button. What if the life is real? Couldthe accumulation of living experience be started all over again? The motion and emotion, while repeated, could be the same as those before the reboot?
In "Layer Code", the choreographer imaginatively manipulates the stage's time and space to allow the dancers and the audience to experience the movements in many layers of setting. It is an experiment itselfto explore physically the relationship between the body and the dimensional elements, and to examine philosophically the possibility of human living through a same life again.
北京雷动天下现代舞团制作演出
桑吉加2013年最新作品《重置》全球首演
由北京雷动天下现代舞团制作和演出,雷动天下驻团艺术家桑吉加编创的最新舞蹈剧场作品《重置》,将于2013年1月11、12、13、18、19、20日在北京雷动天下剧场演出六场,由此揭开全球首演的帷幕。
此次创作演出特邀了香港知名音乐人李劲松和多媒体制作人杨振业,以及马来西亚顶尖灯光设计师陈剑明和北京著名服装设计师王彦共同合作
时间:2013年1月11日-13日、1月18日-20日
地点:雷动天下剧场
时长:70分钟(不设中场休息)
编导:桑吉加
作曲:李劲松(CASH香港)
舞美及灯光设计:陈剑明(马来西亚),
视频设计:杨振业(香港)
服装设计:王彦 (北京)
舞者:李玥、汤婷婷、刘吟韬、谢欣、谢勇超、
訾伟、许一鸣、扎西旺加、钱琨、胡沈员、阿迪亚
票务总代理:中演票务通 网址:www.t3.com.cn
24小时订票热线 400-818-3333
剧场票务 010-64054842 转 8016
作品简介
《重置》是桑吉加在继《无以名状》和《前定的暗色》之后,为舞团度身打造的第三部作品。在今天人们习惯的虚拟空间如各式计算机和电玩世界里,"重置"意味着推倒过去的程序和经历,并重新建立一个出发点,以面对种种'曾经发生'或'将要发生'的事件。在虚拟的世界里,要推倒过去修建将来,只要按一下键扭即可,可在现实生活里,伴随着时间和空间的是人类情感的积累和堆填,当时空颠倒之后,是否所有被推倒的,都可以重来?被打破的,都可还原?
舞蹈《重置》以艺术家的想象力,进行对可否重复生命过程的思考。
编导:桑吉加
国际编舞家,1993年至1998年间为广东实验现代舞团舞者; 1999年至2002年于香港城市当代舞蹈团工作。数十年来,桑吉加游走世界舞台获奖无数,最受瞩目的便是2002年入选"劳力士创意推荐资助计划",远赴德国追随现代舞大师威廉·佛赛,并成为大师的入室弟子及排练助理。 2007年回国至今,担任北京雷动天下现代舞团驻团艺术家。主要编舞作品有:《一九七九》、《那一年·这一天》、《同志》、《无以名状》、《火柴人》及《前定的暗色》等。
作曲:李劲松
是世界实验音乐圈最活跃的香港人,身兼制作人、作曲家、声音艺术家、厂牌创始人、组织者、策划人的身份,以不同创作代号以及成型的多支乐队演出。李劲松的音乐创作风格十分多样化,糅合了工业噪音、实验电子、Avant Garde、当代新古典和拼贴等多种手法。已出版20多张CD和DVD。
舞美及灯光设计:陈剑明
马来西亚著名舞美及灯光设计师。2004年加入北京现代舞团;2005年成为北京雷动天下现代舞团建团成员,担任技术总监。2011年离开雷动天下,现为自由设计师。代表作品有:现代舞《冷箭》、《满江红》、《挽歌》、《前定的暗色》、《无以名状》、大型历史舞台剧《延安保育院》等
视频设计:杨振业
毕业于香港大学计算机工程系,现为录像设计师。从2007年起已参与超过30部舞台制作,成为香港最活跃的录像设计师之一。2010年凭城市当代舞蹈团《那一年.这一天》的录像设计获提名香港舞蹈年奖。
服装设计:王 彦
2005年毕业于中央戏剧学院舞台服装设计专业;2008年取得中央戏剧学院舞台服装设计专业硕士学位;现任北京戏曲艺术职业学院舞台美术系教师。曾获第九届中国艺术节"文华奖服装设计奖"。作品涉猎舞剧,戏剧、音乐剧、杂技以及大型晚会等领域。
排练宣传短片及详细信息请查看:
http://www.beijingldtx.com/news/whatsnew_c.htm