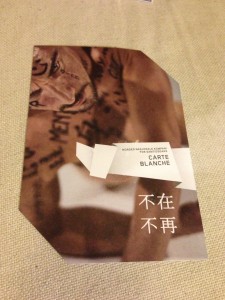 Sang Jijia – Not here / Not ever
Tibetan-Chinese Sang Jijia will create new dance act with our ensemble, with tools from his multicultural melting pot of influences. The piece premieres on the Bergen International Festival 2013.
Sang Jijia is a prize-winning Tibetan-Chinese choreographer, who is currently the Resident Artist of BeijingDance / LDTX and Guangdong Modern Dance Company.  With a background as a dancer and choreographer in companies from all over the world, Jijia is interested in how cultural differences affect the works of artists. Jijia's works have a characteristic performative mix of visual art, architecture and multimedia which he adapts into an eastern aesthetic. Sang Jijia will now give this expressive style a Nordic touch through his cooperation with Carte Blanche.
From 1999 to 2002, Jijia was a dancer of Hong Kong City Contemporary Dance Company (CCDC). In 2002, he was the first to be chosen as a "protégé" in the prestigious mentor programme Rolex Mentor and Protégé Arts Initiative.  During the period 2002 to 2006, Jijia studied with William Forsythe and worked with the Forsythe Company as a choreographer and dancer. Jijia's creations have been presented at the Korea's Chang Mu Dance Festival, Swiss International Dance Festival, International Computer Music Festival, Taipei Arts Festival and Holland Dance Festival.
His works include 'Comrade', 'Stay Still', 'Show You Colours', '365 Ways of Doing and Undoing Orientalism', 'Happening Continuous', 'Unspeakable' and 'Sticks'.
Date: 3rd June 2013 / Festspillene Bergen
Choreography: Sang Jijia
Music: Dickson Dee (CASH) @Noise Asia Production
Costume Design: Indrani Balgobin
Lighting Design:  Adalsteinn «Alli» Stefansson
Video Design: Adrian Yeung
PR photo: Yaniv Cohen
Dancers from Carte Blanche |Duartion 60 -70 minutes – no intermission
Co-production: L'Onde Théâtre et Centre D'Art Vélizy Villacoublay and Bergen International Festival.