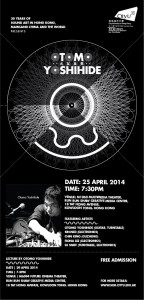 Concert by Otomo Yoshihide (大友良英)
Date : 2014-04-25
Location : M1060 Multimedia Theater, Run Run Shaw Creative Media Centre,18 Tat Hong Avenue, Kowloon Tong. Hong Kong
Time : 7:30pm
Lecture by Otomo Yoshihide (大友良英)
Date : 2014-04-29
Location : M6094 Future Cinema Theater, Run Run Shaw Creative Media Centre,18 Tat Hong Avenue, Kowloon Tong. Hong Kong
Time : 7-9 pm
Otomo has been international recognized and prolific in his musical output which has spanned across Free Jazz, Noise, Free Improvisation, Sound Art, and compositions for large amateur ensembles. Over the years he has worked with luminary figures such as John Zorn, Christian Marclay, and Luc Ferrari. In 2013, Otomo won national recognition for his soundtrack for TV drama "Ama-chan" which aired every morning on the national public broadcasting network, NHK. The opening theme quickly became a hit and another song he wrote went on to win the National Records Award of Japan. Now Otomo is Japanese household name, which makes everything even more confusing.
For this exclusive performance at SCM, local musicians Sin:Ned (Electronics), Fiona Lee (Electronics), Chin King (Guzheng), and dj sniff (turntables) will join Otomo in a unique performance inspired by his installation performances Yuheisha (幽閉者) and Ensembles.
Additionally on Tuesday April 29th, Otomo will give a lecture on his work after the 2011 disaster in Japan, Project Fukushima.
For more information check out the SCM announcement webpage.
Some video links of Otomo's work:
​
http://vimeo.com/1802106
http://youtu.be/oMQFtY6X_V8
Both programs are free of charge.