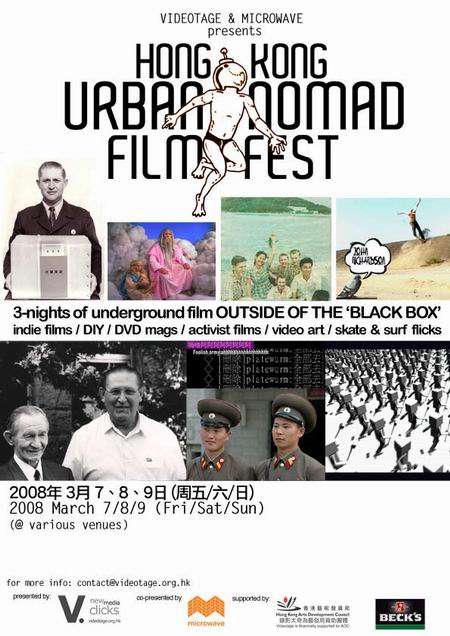 Videotage & Microwave presents
URBAN NOMAD Hong Kong
3-nights of underground film – Outside of the 'Black Box'
2008 March 7 / 8 / 9 (Fri/Sat/Sun)
URBAN NOMAD is a festival for underground and alternative film founded in 2002 in Taipei, running annually in various converted warehouse spaces, former train yards, universities, under highway bridges and most recently at international art fairs. The fest aims to break down the impersonal 'black box' theatre mentality, where hundreds of people watch films without even a friendly hello. Urban Nomad brings their provocative programming to Hong Kong with a feature-night screening + talk at the old Imperial Cinema in Wanchai.
Venues
Videotage: Unit 13 Cattle Depot Artist Village, 63 Ma Tau Kok Road, To Kwa Wan, Kowloon
KLUUBB: 14/F, 367 Hennessy Road, Foo Tak Building, Wanchai, Hong Kong | +852 8171 7211 | http://kluubb.tk
Imperial Cinema: 42 Burrows Street, Wah Tao Building, Wanchai (near Wanchai Road)
Price
Suggested donation: 30hkd per program, RSVP: contact@videotage.org.hk
PROGRAM – Full program details here: http://www.videotage.org.hk//recroom_eDM//08_02_18_edm_UN/
"Cinema," says philosopher Slavoj Zizek, "is the ultimate pervert art. It doesn't give you what you desire – it tells you how to desire." But if we are to live our lives in a media environment, which now seems inevitable, how do we take back our desires? For this event, Taipei's Urban Nomad Film Fest, working with HK's hometown crews of Microwave and Videotage, brings together a package of indie shorts from Taiwan, Hong Kong, Singapore and the Philippines plus two international features.
The shorts come from emerging categories — underground, DIY, DVD magazines, activist films, video art, skate/surf flicks – that show how film can be a medium for communication and community rather than just entertainment and telling us how to look cool. Saturday's main feature, Crossing the Line, provides a first ever look at the life of an American GI who defected to North Korea in the 1960s and amazingly found happiness there. Filmmaker Nick Bonner will be coming in from Beijing for a talk and gathering following the screening. The Sunday program, Pervert's Guide to Cinema starring rock star philosopher Zizek, is a reassessment of mainstream cinema history (and also an indie film!) that looks at where film has been over the last 100 years and why we might just be ready for something new.
城市遊牧影展 香港站
時間:
2008年3月7 、8、 9日 (周五/六/日 )
地點:
錄影太奇(土瓜灣馬頭角道63號牛棚藝術村)
KLUUBB (香港灣仔軒尼詩道367號富德樓14樓)
京都戲院(灣仔巴路士街42號華都樓)
「城市遊牧影展」於2002年在台北成立,是台灣唯一獨立地下影展。獨特的電影放映空間是「城市遊牧影展」的特色之一。組識致力破壞傳統「黑盒子」電影院 概念並安排另類的放映空間,以解放死板的戲院經驗為目的,給觀眾帶來簇新的觀賞經驗,一個另類的溝通機會。這一站 – 香港 – 我們將會在懷舊的灣仔京都戲院播放影片及進行講座。
電影不止是娛樂、亦不是教我們如何扮有型;它是一個溝通及建構社區的媒介。是次影展,我們將介紹來自不同國家的短片及紀錄片,包括香港、台灣,北韓和三藩市等,亦邀請了影片導演Nick Bonner(英國/北京)進行演後座談。
價錢:
每個節目約$30, RSVP: contact@videotage.org.hk