Mainland China, Hong Kong, Taiwan, Singapore, Malaysia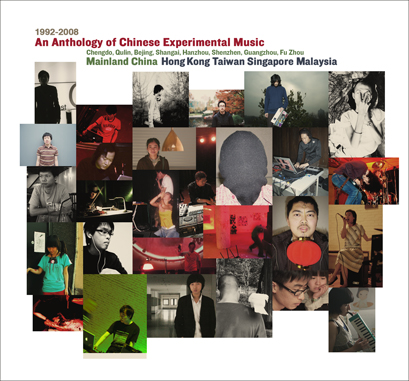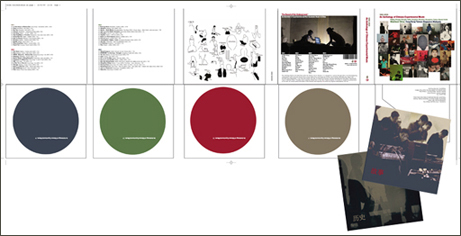 4 CD SET DIGIPACK
+ 2 x 16 PAGE BOOKLETS
SR265
barcode
5411867112655
AN ANTHOLOGY OF CHINESE ELECTRONIC MUSIC (1992-2008)
from Mainland China
(Beijing, Shanghai, Chengdu, Guilin, Hangzhou, Shenzhen, Guangzhou, Fuzhou, Shanxi, Harbin)
Hong Kong – Taiwan – Singapore – Malaysia
This anthology features 48 artists from within the Chinese area of influence. It is designed
as a journey through what is currently happening underground, under extremely diverse forms.
It also looks at the recent past and the key role of pioneers like Wang Fan, Dajuin Yao,
and also Hong Kong-based Li Chin Sung aka Dickson Dee who, for almost two decades, has been
spreading the word about Experimental music in Mainland China. This album was curated by
Dickson Dee on Guy Marc Hinant's invitation. It includes an enlightening presentation on the
short yet intense advent and history of the Chinese noise explosion,co-written by Zbigniew
Karkowski and Yan Jun.
The Sound of the Underground
An Overview of Experimental and Non-Academic Music in China
The Chinese Cultural Revolution (1966-76) in one way or another eradicated most of the
existing culture in China. At the same time as intellectuals were sent to rural labor camps,
countless ancient buildings, antiques, books, paintings and various artifacts were just
destroyed. This period created an enormous intellectual, cultural and artistic vacuum in
China – destruction that in a sense, time is still healing.
So tradition of music culture and especially non-academic, purely experimental music,
started from 'point blank' scratch sometime in the 80ies. With the market economy
introduced in that decade and further media developments in the 90ies, there was a kind
of an explosion in youth culture that had been held back for decades. Movements and music
scenes that previously never reached China – like for instance psychedelic music, punk
or neo-dada started to appear and expanded at astonishing pace.
The birth of these alternative rock and punk music scenes that later developed into even
more experimental trends is a direct result of global capitalism and profound change in
China's position within the World Order. It however did not develop the same way as it
usually does in the West – with one eye looking forward and the other one always glancing
at history. It started with 'dakou' and with piracy.
tracklisting
4 x CD
CD1
01. Li Chin Sung aka Dickson Dee (Hong Kong) / Somewhere (1994) / 10'33
02. Zenlu (Shenzhen) / Zen (2007) / 9'19
03. Bai Tian (Chengdu) / Wet (2007) / 4'05
04. Cheewei (Singapore) / Evening has arrived (2006) / 8'02
05. Lim Giang (Taipei) / "???" (2006) / 8'41
06. Ang Song Ming aka Circadian (Singapore) / Book radio mixer (2007) / 3'02
07. Chung-Han Yao (Taipei) / Untitled (2005) / 5'02
08. Goh Lee Kwang (Malaysia) / Frong spraying (2007) / 3'42
09. Wu Quan (Beijing) / Weather forest (2006) / 5'04
10. Me:Mo (Beijing) / pro.a (2007) / 4'30
11. Wang Jong-Kuen (Taipei) / Leaving (2006) / 5'40
12. Dajuin Yao (Zuoying) / Psycho Realm (2006) / 5'29
CD2
01. Sun Dawei (Beijing) / Crawing state (2007) / 4'14
02. Nara (Beijing) / Dream a little dream (2007) / 6'54
03. WFDD / Wang Fan + Dickson Dee (Beijing/Hong Kong) / Sin (2007) / 8'36
04. Stingrays (Singapore) / 061020 (2006) / 5'18
05. Dennis Wong aka Wong Chung-Fai (Hong Kong) / para_dot (2006) / 5'12
06. Fathmount aka Wilson Lee (Hong Kong) / A yoke of oxen (2007) / 4'56
07. PNF (Hong Kong) / Chi (1994) / 3'11
08. Li Wen Tai aka Vince Li (Hong Kong) / Eat (2007) / 4'57
09. Shenggy (Beijing) / Junggy 's decay (2007) / 3'05
10. Ronez aka Zhou Pei (Guilin) / Kikusui Back (2006) / 4'57
11. Zhou Ri Sheng (Shanxi) / Noise God (2006) / 7'22
12. Fish (Taipei) / Rusty Crane Keelong (2007) / 4'46
CD3
01.Torturing Nurse (Shanghai) / Fugitive (2006) / 14'46
02. Wang Fan (Beijing) / Zero (2006) / 6'28
03. Wuwei + Ulrich Morits (Shanghai/Berlin) / Toy Ships (2003) / 2'48
04. Xper. Xr. & The Orphic Orchestra (Hong Kong) Hickory Dickory Dock (1992) / 1'01
05. Hong Qile (Fuzhou) / j gmc (2007) / 8'00
06. Ying Fan (Taipei) / L2255 mix (2007) / 3'58
07. Dead J aka Shao Yanpeng (Beijing) / untitled (2007) / 3'49
08. Z.S.L.O (Taipei) / 422189 (1997) / 3'09
09. Jedung Kying / Edging + Junky (Guangzhou/Shanghai) Dabao (2007) / 3'01
10. Tats Lau (Hong Kong) / Face The Antagonish (1992) / 2'53
11. Li Jianhong (Hangzhou) / Sod (2007) / 5'32
12. Dino (Taipei) / untitled (2005) / 6'45
CD4
01. Wang Changcun (Harbin) Through the tide of faces (2007) / 4'59
02. D!O!D!O!D! / Li Jianhong + Huangjin (Hangzhou) A dark knife (2006) / 5'36
03. Yan Jun (Beijing) / Its more than enough (2006) / 5'35
04. Loga (Fuzhou) / 620 (2007) / 9'22
05. Pei aka Liu Pei-Wen (Taipei) / Bird lady (2007) / 7'43
06. Eric Lin aka Lin Chi-Wei (Taipei) / untitled (2007) / 3'10
07. Alice Hui-Sheng Chang (Taiwan) There she is, standing and walking on her own (2007) / 3'59
08. Ching Shen Ching (Taiwan) / V-zone (1997) / Fuji Wang + Anes: electronics / 7'25
09. Dancing Stone (Hong Kong) / Two (1995) / Nelson Hui: flute + Ling Lee: voice / 2'13
10. Illuminated 6.6.6. (Hong Kong) / Enjoy the silence (1992) / 6'06
11. Juno aka Timmy Lok (Hong Kong) / Possiblilities (1995) / 3'18
12. Simon Ho (Hong Kong) / 5 (2005) / 6'53