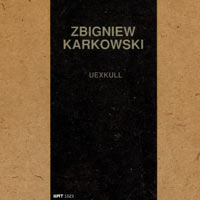 Audio Tong present a re-edition of Zbigniew Karkowski's early piece, Uexkull. Not available on CD anymore, here you can download it for free as an 320kbps mp3 or high quality .aiff file.
Uexkull is one of the first works published by Zbigniew Karkowski. It was composed between 1988-89 in Gothenburg, Sweden and Paris, France.
Originally released on
Anckarstrom label in Gothenburg in 1990, Uexkull was realized at Ateliers Upic in Paris, EAM studio at State College of Music in Gothenburg and Computer Music Studio at Chalmers University of Technology in Gothenburg.
instruments used are:

double bass

UPIC (Unite Polyagogique Informatique du CEMAMu)

Serge analogue modular synthesizer

alto voice – Karin Westman
download here:
http://audiotong.net/audio/releases/tng1023-en.html