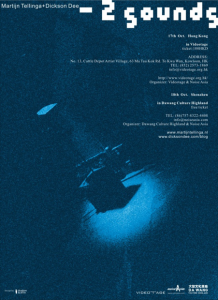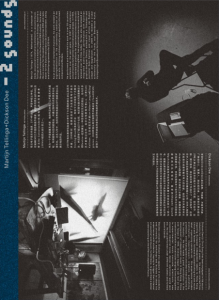 17th Oct Videotage / Hong Kong
Time: 8:00pm
Price: 100HKD
Venue: Videotage
No. 13, Cattle Depot Artist Village, 63 Ma Tau Kok Rd. To Kwa Wan, Kowloon, HK
Phone: (852) 2573-1869
Email: info@videotage.org.hk
18th Oct Dawang Culture Highland / Shenzhen
Time: 8:00pm
Free Ticket
Venue: Dawang Culture Highland
dawangculture@gmail.com
Martijn Tellinga
(1974, Netherlands)is a composer of meda, acoustical installations and electro-acoustic music. Tellinga received a master's degree in Sonology. Now he is the guest composer at the Swedish EMS studios. He is also the co-curator for the weekly concertseries DNK and radio maker for the Dutch radiostation De Concertzender, being one of the 4 programmers for 230 Volt.
As an acoustical intallation musician, his work renders an ougoingmeditation on the rudimentary condition of the sonic arts. Utilizing architecturally and spatially informed compositional models.
He performed and exhibited his work in over 20 countries worldwide over the past years. In 2007 hdid extensive concert and lecture series in Australia and Canada. In 1999, he started the platform for experimental electro-acoustic music Stichting Mixer, has organized numerous events and released over 25 titles today. He has also developed an integrated audio-visual performance with Austrian graphic-designer Dextro, worked with a.o. filmmaker and journalist Sami Kallinen and visual artists Jan Robert Leegte and SagiGroner. In 2008 he receied a 2-year scholarship from the Fonds voor Beeldende Kunst. Vormgeving en Bouwkunst for his sound art.
荷兰电子音乐作曲家,1974年出生。声音学硕士学位。现任瑞典EMS工作室的客座作曲家。星期系列音乐会DNK以及荷兰De Concetzender无线电台的共同管理者,230Volt的四大设计员之一。
作为一个声音装置艺术家,他的作品体现了以声音艺术为基础,利用建筑与空间的组合,并通过各种方式将其多元化、音乐化。
过去几年中,他在世界各地超过20个国家演出以及展示他的作品。2007年他在澳洲和加拿大举行了大范围的音乐会以及系列讲座。1999年时,他曾经启动了为实验性电子音乐Sticting Mixer而造的平台,他如今已经组织了无数活动,并且获得了超过25个头衔。他还曾与澳大利亚图像设计师Dextro一起发展出一种音视频交互式的演出,他与许多艺术家有过合作,如芬兰电影制作者a.o、记者Sami Kallinen,以及视觉艺术家Jan Robert Leegte和Sagi groner。2008年他从荷兰视觉艺术基金会(Fond BKVB)获得了一份两年的奖学金用以研究他的声音艺术。
http://www.martijntellinga.nl/