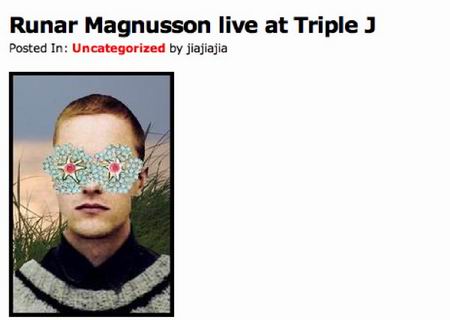 details please check Triple J link

http://triplej.wordpress.com.cn/
add: Behind the roller coaster, Culture Palace, Dongmen, Luohu District Shenzhen (134 1064 5216)
嘉嘉的家,罗湖东门文化宫过山车后面
This Friday night at the cafe – Dickson Dee, and Runar will be playing a set. Dirt Star will join in for a little set too.
From Runar's website:
Listen to all my music and related stuff, such as Vindva Mei and DJMusician at Whitelabel@Last.fmYou can hear all our releases in fulllenght there.
Born in Iceland.
Moved to Copenhagen, Denmark in 1996.
Working in electronic, electro-acoustic, experimental, ambient, soundart,
noise blahblahblah..whatever.
Member of Vindva Mei that has been around since 1994.
Released 3 cd´s with Vindva Mei.
Doing solo work for theater and performances since 1999.
4 solo releases: 3 cd´s and one online release on noisejihad.
Various collaborations such as: 1 release with Thor Magnusson. Generative music, on ixi label.
1 track on a russian compilation cd, Tchaikovsky electro
on KAMA records With Ozy.
Played and/or contributed to numerous concerts and festivals in Iceland, Denmark, England, Hong Kong, China, Russia and USA.
Doing masters degree in electronic music at DIEM,
The Royal Academy of Music, Aarhus.
For more info, check out his Myspace here.
http://www.myspace.com/runarmagnusson