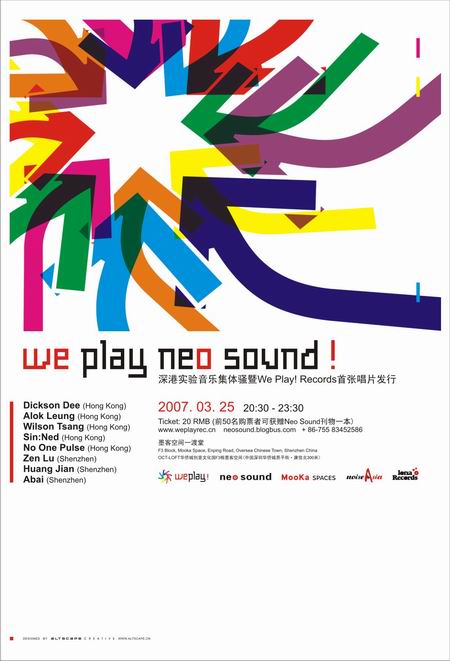 We Play Neo Sound!
——深港实验音乐集体骚暨WePlay Records首张唱片发行
date:2006.03.25(Sun.)
time:20:30-23:30
venue:墨客空间一渡堂
address:F3 Block,Mooka Space,Enping Road,Oversea Chinese Town, Shenzhen CHINA
OCT-LOFT华侨城创意文化园F3栋墨客空间(中国深圳华侨城恩平街·康佳北300米)
Ticket:20RMB(前50名购票者可获赠neo sound刊物一本)
artists:
Dickson Dee(Hong Kong)
Alok Leung(Hong Kong)
Wilson Tsang(Hong Kong)
Sin:Ned(Hong Kong)
No One Pulse(Hong Kong)
ZenLu(Shenzhen)
Huang Jian(Shenzhen)
Abai(Shenzhen)
www.weplayrec.cn | neosound.blogbus.com
We play 首张出品的唱片-ChoP< over a foul line/simple questions >将于2007年3月25日发行,当晚将在墨客空间举行一场由we play records和neo sound组织的实验音乐演出,艺术家来自香港和深圳本地。
Chop- < over a foul line/simple questions >,the first album of We Play Records,will be released on 25th March,2007,and a live experimental music show organised by We Play Records and Neo Sound Group will be held at the very night that day .all the artists are from Hong Kong and Shenzhen.